Advantages
Save time while working with many applications and windows
You have many running apps and windows open?
Switching between them taking too much time?
With the help of Window Preview you can quickly find the window you need,
place it wherever you need and quickly switch to it.
Be more productive and organized
Groups and Folders can help you to organize elements
by topics (design, development, copywriting) and to reduce chaos.
Fast access to applications and documents you need
Start Menu and custom icons allow you to find apps,
files or folders you need, saving you time.
Additionally, with Folder Views feature you will have the most important files right at hand.
Fewer distractions whilst working
Display only what's really important and hide everything else that is not required for your current task.
Customizable appearance and custom icons for apps
With the help of custom themes, you can make your Dock unique.
Custom icon sets will not only make your Dock beautiful
but will also allow you to find the app you need faster.
Window Previews and Window Management
With Window Previews feature you can quickly find the window you need,
switch between windows or place windows to the front of the screen.
Customizable Appearance
and Custom Icons for Apps and Folders
With the help of custom themes you can make your Dock unique.
Custom icons for apps not only make your Dock beautiful, but also allow you to find apps you need quickly.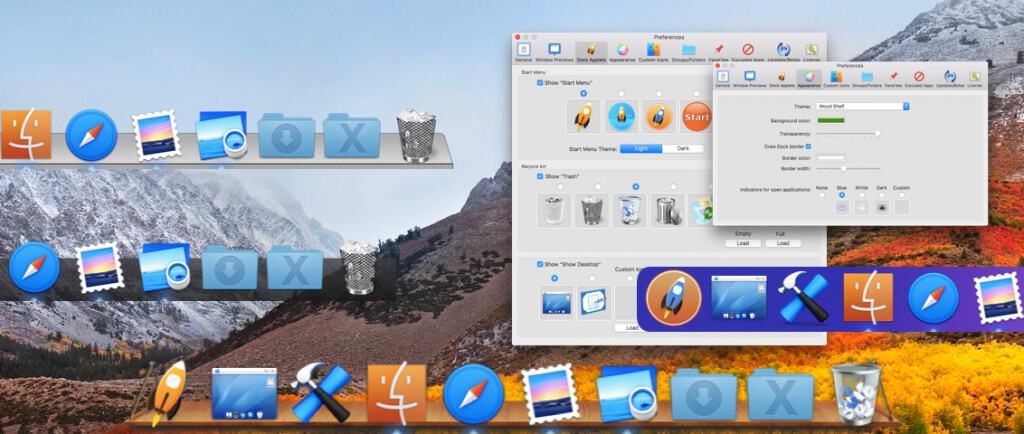 Groups and Folders
Organize apps and documents into Folders and Groups.
Folder View feature allows you to add to the Dock a stack with the contents of your chosen folder for quick access.
Groups feature allows to create a virtual folder in the Dock or Start Menu with the links to any file you need.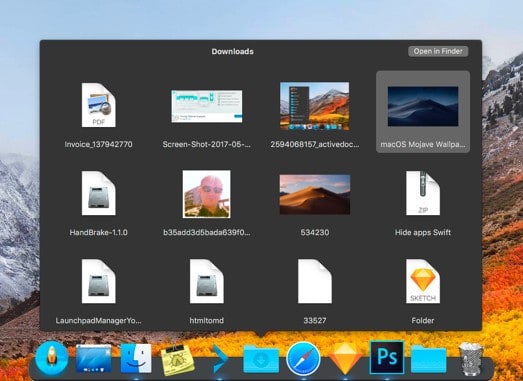 Start Menu – Application Launcher
Allows you to quickly start apps, open documents and folders.
Hiding and excluding Applications from the Dock
With ActiveDock you can exclude hidden apps from the Dock,
or add some apps to the exclude list to completely hide them from the Dock
to avoid any distractions in your work.
⭐️⭐️⭐️⭐️⭐️
I've use many application launchers (including DockShelf, and uBar 4), but none are as fast and flexible as ActiveDock. ActiveDock is the most adaptable and useable Dock replacement I've had the pleasure to use. And, each version just keeps getting better!Richard Guay
www.customct.com
I
used
your
app for about 5 minutes
before
deciding it is well worth
paying
for a lifetime license
Nestor Rybczuk
It is great to be able to 
customise
the
dock
again which has been difficult since 10.6.8.
Excellent personal support!
Thank you.
David O'Connor
I
had uBar before
, but that was too windows-y for me,
ActiveDock
really
brings
the
functionality to the Mac interface
. Good job!
Mirko Kranenburg
⭐️⭐️⭐️⭐️
Powerful alternative to Apple's macOS dock. All things considered, ActiveDock is an excellent alternative to the default macOS dock, especially since it comes with extra features such as window previews, dock themes, and a very handy start menu applet.
Sergiu Gatlan
www.softpedia.com
ActiveDock Pricing
Perpetual license for 2 Macs
One-time payment
Standard license (for ActiveDock 1.xx)
All ActiveDock 1.xx updates
Standard Support
Perpetual license for 3 Macs
One-time payment
Lifetime license
Lifetime updates
PRIORITY SUPPORT
Free Upgrade to version 2.0
No-risk 14 day money back guarantee.
Note this is a one-time fee (not a subscription) and includes VAT/sales tax if applicable.

Requires macOS 10.12 or Later
FAQ
Q: Does ActiveDock support multiple monitors?
A: No, this feature will be available in version 2.0 which is currently under active development.
Q: Does ActiveDock support Touch bar on Macbock Pro
A: No, this feature will be available in version 2.0
Q: Is it safe to use ActiveDock?
A: Yes, of course, ActiveDock does not replace any system files and does not require disable SIP (System Integrity Protection), unlike cDock and other applications.
Q: Does ActiveDock support macOS Catalina?
A: Yes, of course, ActiveDock is fully compatible with macOS Catalina, before distribution, each version notarized and verifed by Apple, which guarantees the absence of malware read more
Q: Does ActiveDock allow creating several panels (docks)?
A: No, but you can try my other MultiDock app https://noteifyapp.com/multidock/
Q: When will version 2.0 be available?
A: In the near future, I can't tell you the exact date yet, but you can subscribe to the news and make a Pre-order with 30% OFF
Q: Is the purchase safe and what guarantees do you provide?
A: I provide a 14-day money back guarantee, you can also contact FastSpring directly and request a money back.
For payment, we use a secure solution from FastSpring (Secure Checkout by FastSpring Sold)